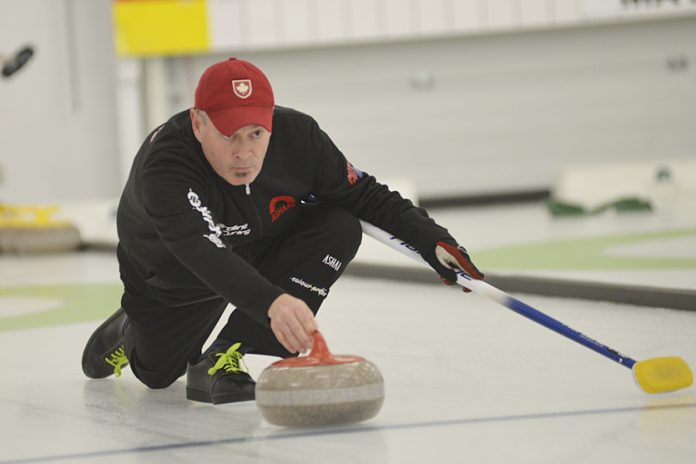 Rob Swan made a stop in Swift Current on Tuesday as he continued to raise awareness for the sport of curling.
The 51-year-old native of Harvey Station, New Brunswick sat and spoke softly with a mug of NeoCitran close by at the Swift Current Current Curling Club as he prepared for his fourth game of the day in the Southwest. This is the curling enthusiast's third season of traveling across Canada attempting to play in as many clubs as he can.
"It started first as a fundraiser for my hometown club in Harvey Station. But it is has slowly evolved to try and raise the awareness of this sport and any way I can support it and promote it I will," he said.
Swan estimated that the Swift Current Curling Club was the 232nd club he had curled in. He hopes to reach 700 clubs, which he says will take him a few more years.
"I am trying to get the municipal and provincial governments to recognize this as a sport. Currently they don't, they look at it as something your mother and father do and that's not right. It is a triple medal in the Olympics. What other sport can you learn when you are five years old and you have until your into your eighties and nineties? No other sport," he explained.
Swan is in Saskatchewan for 13 days and plans to play a game in 36 different curling clubs.
He opened the day with a game in Abbey, followed by stops in Gull Lake and Hazlet before arriving in Swift Current for a game in the Tuesday Night Men's League with Tyler Weston's rink.
Swan was a competitive curler in the past, winning high school provincials and then eventually competing in men's provincials. "But then the competitive nature got too much for me, so I quit and threw all my gear out. When I started this two and half years ago I had to go buy brand new gear," he laughed.
He has two rules that he sticks two on his quest. Swan curls a minimum of six ends in each club to make it an official game and he will never repeat a club. He said he has not even curled a game in his own club for three years.
Swan said he is always impressed by how welcoming people are and how much enthusiasm they have for the sport.
"Some naysayers will say that this sport is dead, it's on the decline, why support it? That's hogwash, go play hockey. Get out of this sport if you have a negative attitude towards it. This sport is, in my eyes, growing. It's not growing in leaps and bounds, but it is growing. After the 2018 Olympics hopefully we will get a burst of more people into this sport."
He said curling is alive and well in Saskatchewan.
"Here in Saskatchewan is great because CurlSask has a junior development program that each club is trying to develop their juniors and get young kids into the sport. Some provinces don't have that and that is their downfall."
His travels across the country have also allowed him to team up with every age group and curling level imaginable.
"Participation in the sport is right across every age group. I have curled with people that are five. I have curled with people that are 96. I have curled with a girl that it was her first game and I have curled with world champions."